From the early 19th century each summer over 200,000 east Londoners – mostly women and children – would 'go down to Kent', for temporary seasonal work harvesting apples, berries, hops and other crops. This annual event came to an end in the 1950s.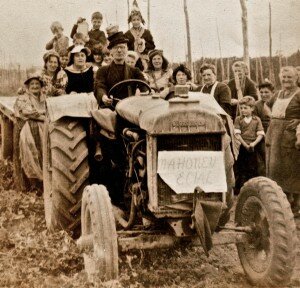 The tradition of hop picking in Kent reminds us of London's closeness to the countryside and relationships between urban communities and rural production, workforces and harvest seasons, economic needs on both sides and the excitement of going somewhere else – even if it's a working holiday.
Mark Watson will talk about this tradition of "going down to Kent" and the changes in beer cultures and beer production over the last centuries.
The talk takes place on
Saturday 24th May at 2pm
at Valence House
Becontree Avenue
Dagenham RM8 3HT
Nearest train station is Chadwell Heath (15 min from Stratford).
The talk is part of Myvillages' new project 'Company. Movements, Deals and Drinks' which takes place in Dagenham and links the history of 'hopping' with the ambition to set up a new community drinks enterprise.