A two-day community hay harvest on the Walthamstow Marshes, with scything workshops followed by a public talk on the Saturday and haystack building, scything competition and a 'bring your own picnic' on Sunday afternoon.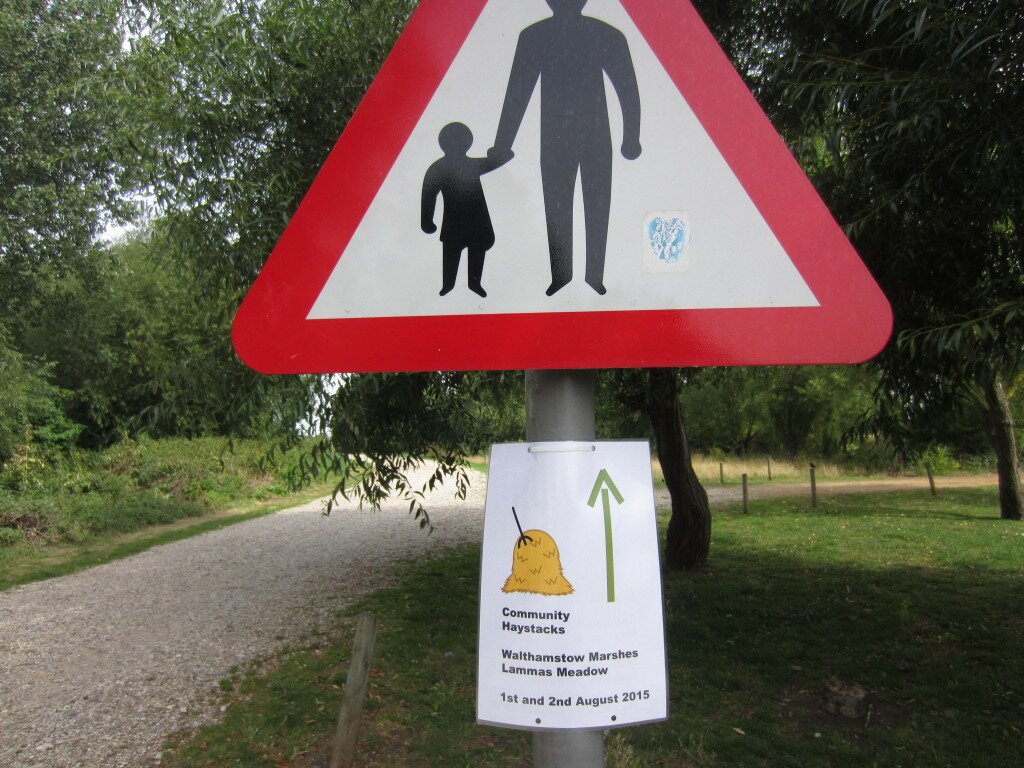 Come and celebrate Lammas Day on Walthamstow Marshes
with the third annual Community Haystacks Event August 1 & 2nd 2015
Community Haystacks is a celebration of an ancient piece of common land – Walthamstow Marshes in east London one of the last expanses of semi- natural marshland left in London. This community haymaking event brings together local residents, conservationists, historians, activists and artists who join together to recreate the pre-mechanical hay harvest and revive traditions of scything and commoning. Now in it's third year the community hay harvest takes place over two days on the date of the ancient feast of Lammas.
The idea to hold the event came from two local artists, Kathrin Böhm and Louis Buckley who work in close collaboration with the Lea Valley Park rangers. In 2015 the Community Haystacks Group was set up as a small and informal group dedicated to running and developing this annual event. By reinstating the traditional hay harvest to Walthamstow Marshes they aim to create a social and cultural event that helps explore the huge diversity of communities and individuals that use and interpret the land, and to discuss the broader connections between urban and rural experiences and practices.
Austrian scythe expert Clive Leeke will teach scything workshops on the first day and on the following day there will be a competition culminating in a communal haystack making and bring your own food picnic. Throughout the two days there will be areas of grassland set aside for those who already know how to scythe. On Saturday evening a group of invited researchers and activists will present current concepts and issues of commoning and land use, to be followed by an informal discussion and drinks.
What's on?
Scything Workshops
Sat 1st Aug , 10.30-12.30, 1.30-3.30pm & 4.00-6.00pm
Learn how to scythe with Austrian scything expert Clive Leeke.
Refreshments and equipment are provided. £5 per session.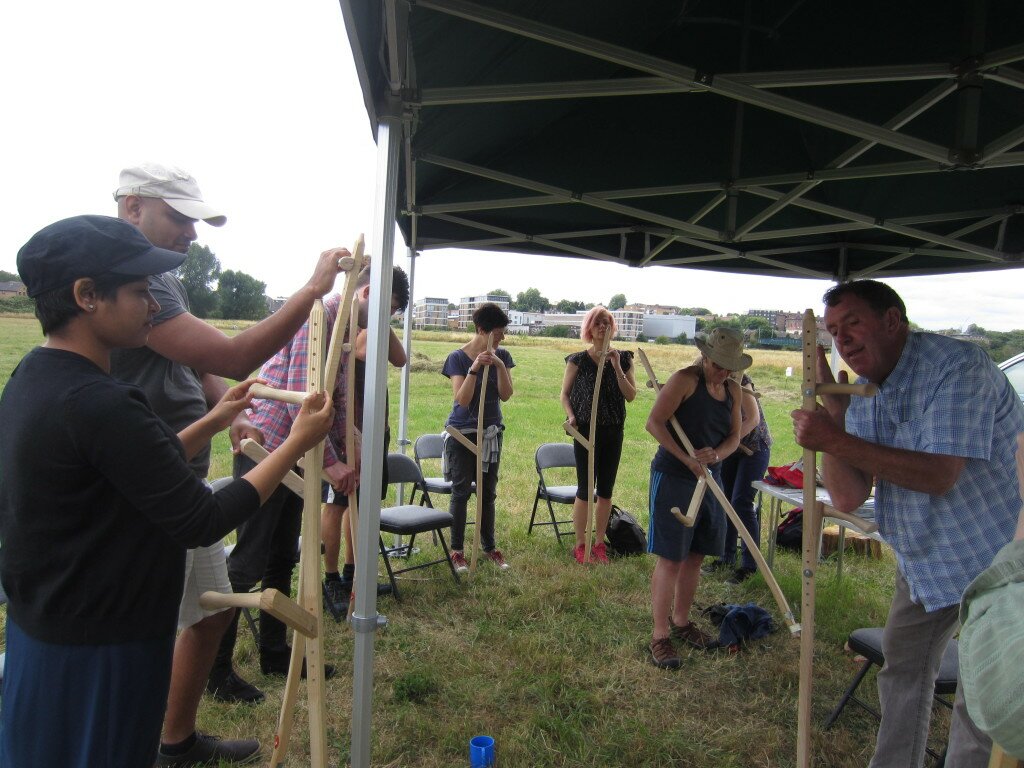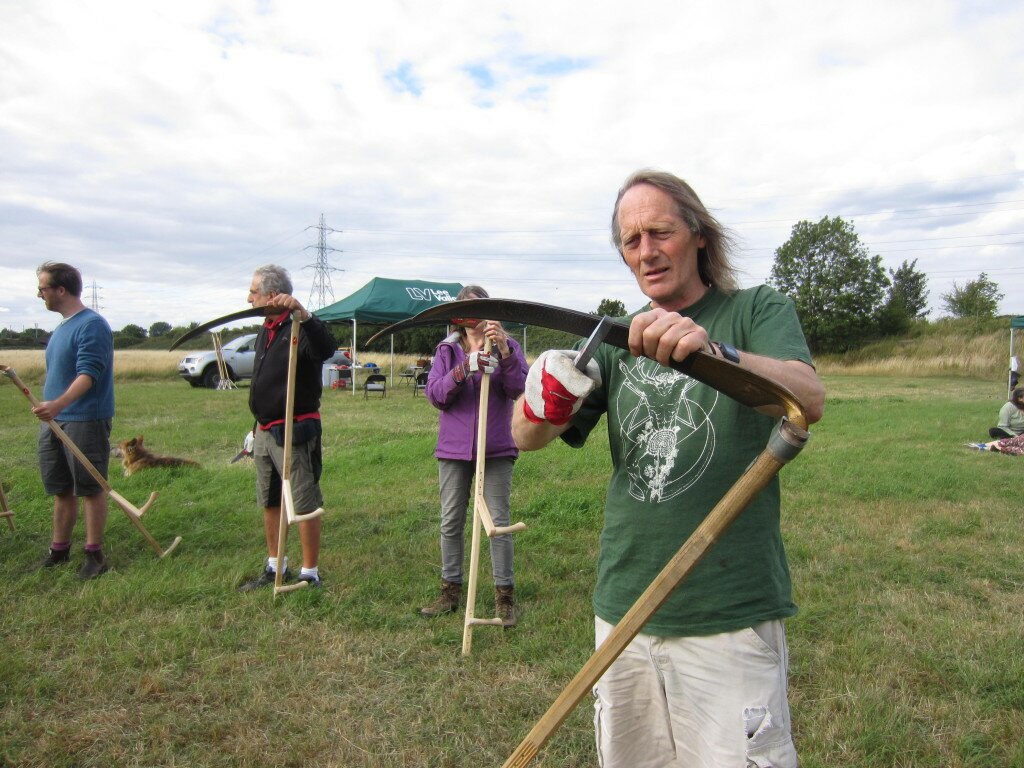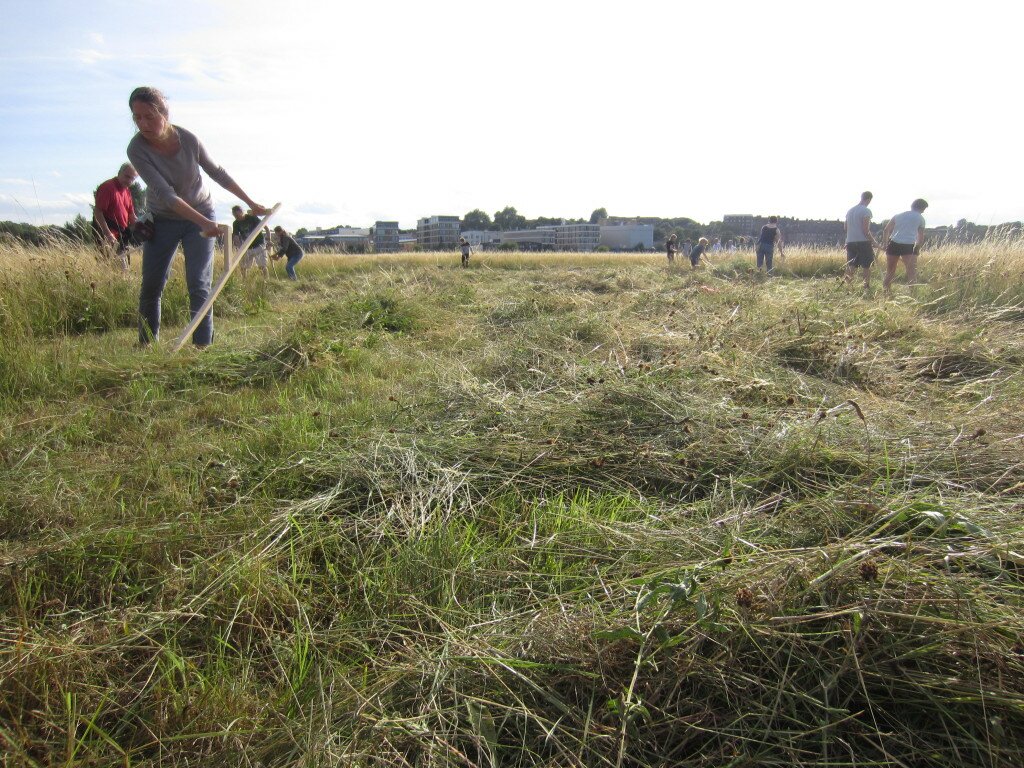 Commons and Commoning
Sat 1st Aug, 7-8pm
Bring your own picnic and join us for an informal public talk with invited guests about the history of the land and related cultures of commoning:
Avery Gordon, writer and sociologist
Joe Ward, New Lammas Land Defence Committee
Gill Baron and Simon Fairlie, The Land Magazine
Jacob Stringer, New Cross Commoners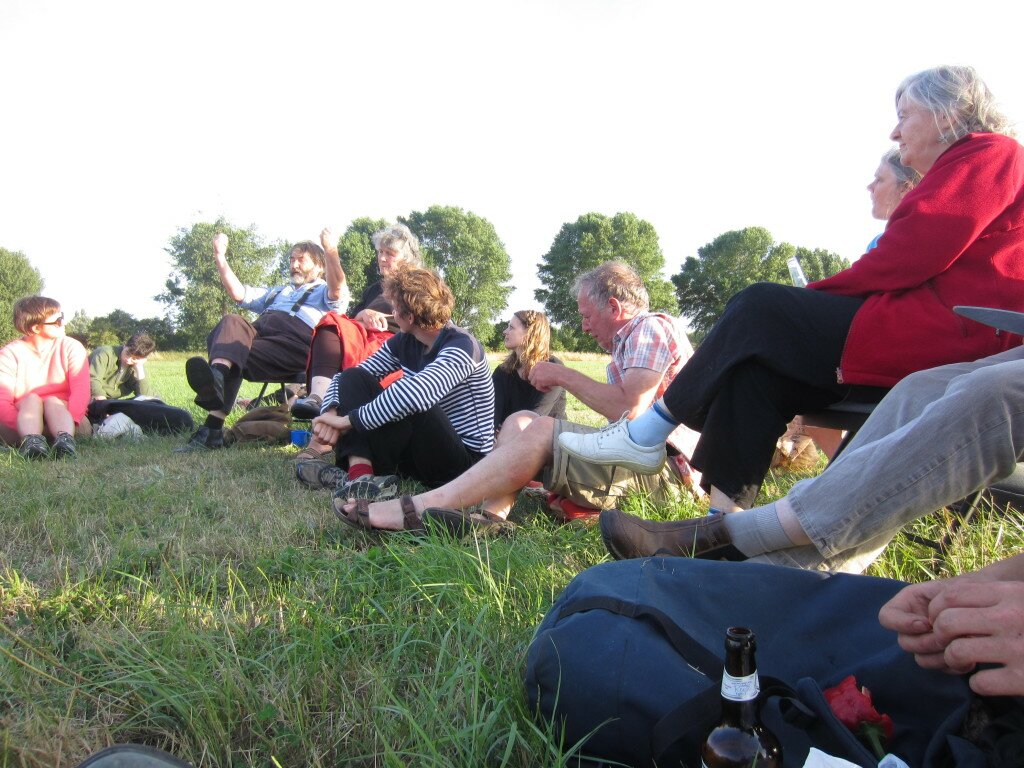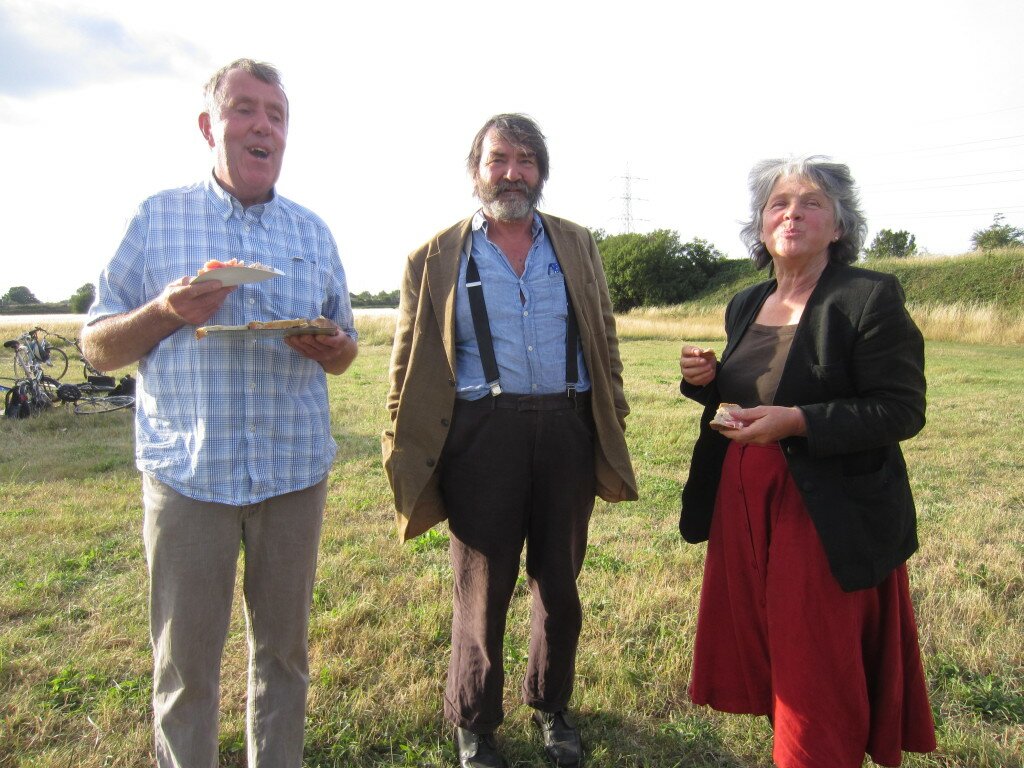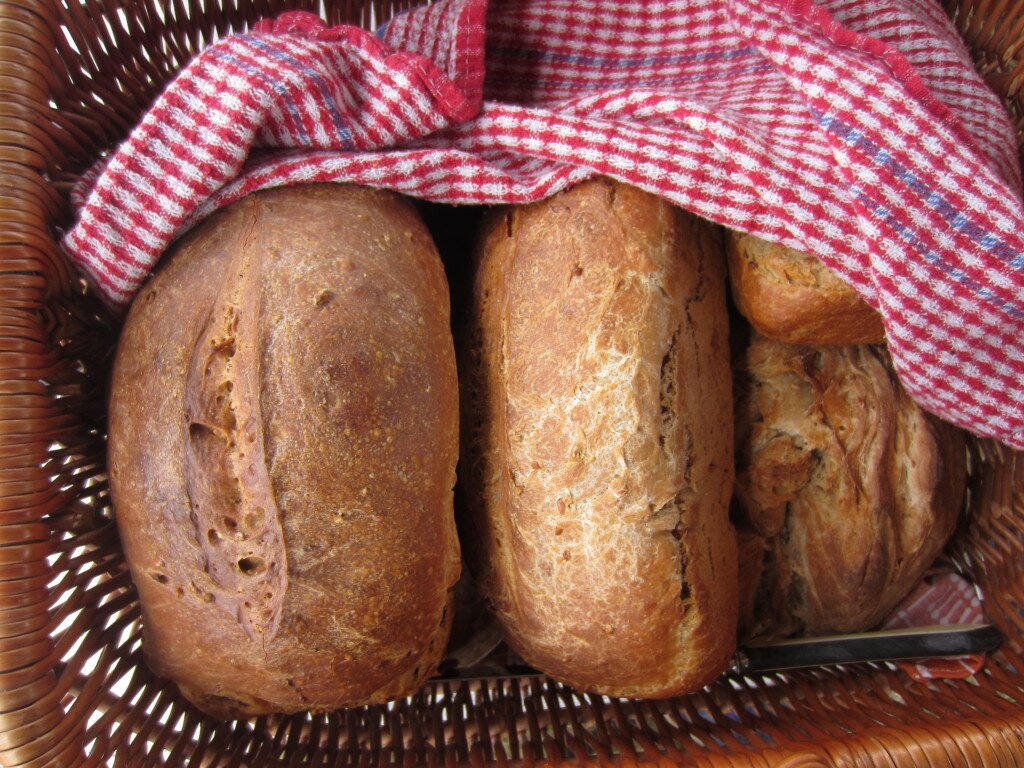 Scything Competition
Sun 3rd Aug, 1.30-3.00pm
Scything Competition
For the first time we are running a scything competition on the marshes,
with local food prizes for
Best windrow
Best quality sward
Best overall performance and style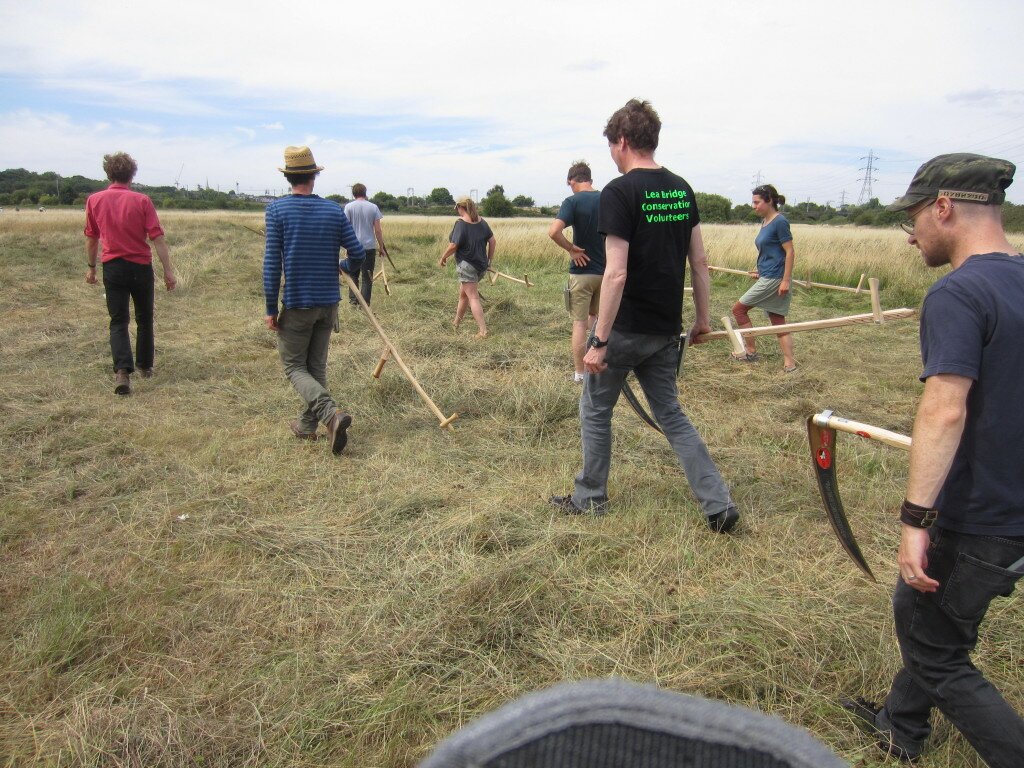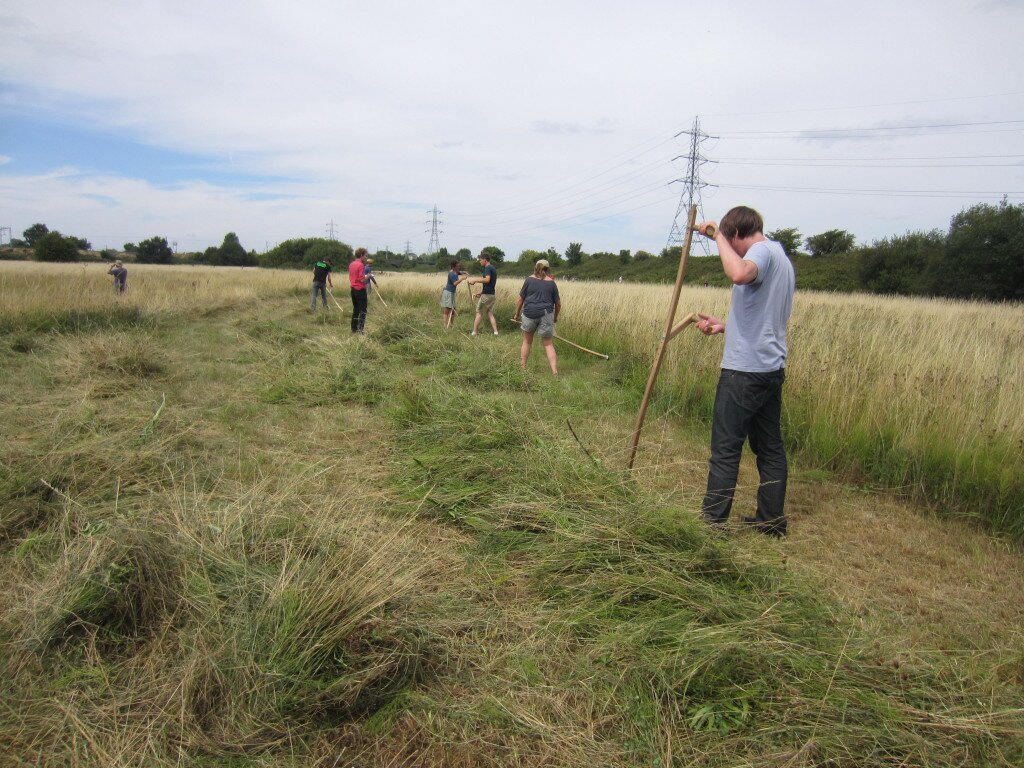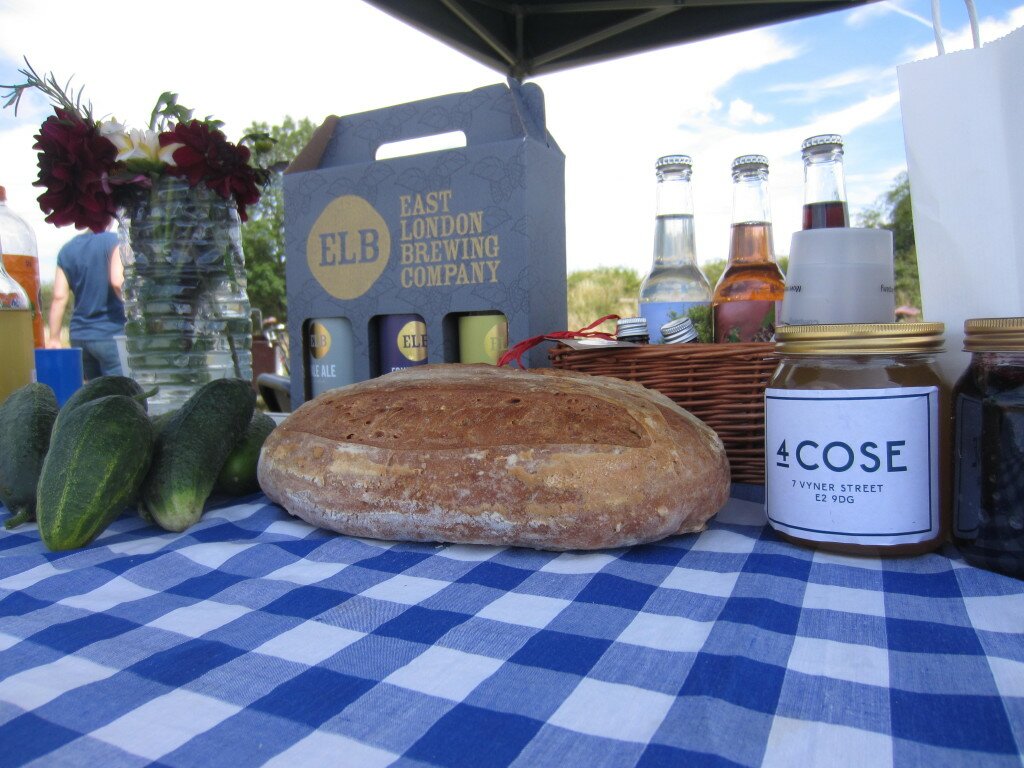 Haystack Building
Sun 3rd Aug, 12-4pm
Come along to help us build a large community haystack on the marshes.
Bring your own picnic and join a guided tour around the marshes with the park rangers at 1pm.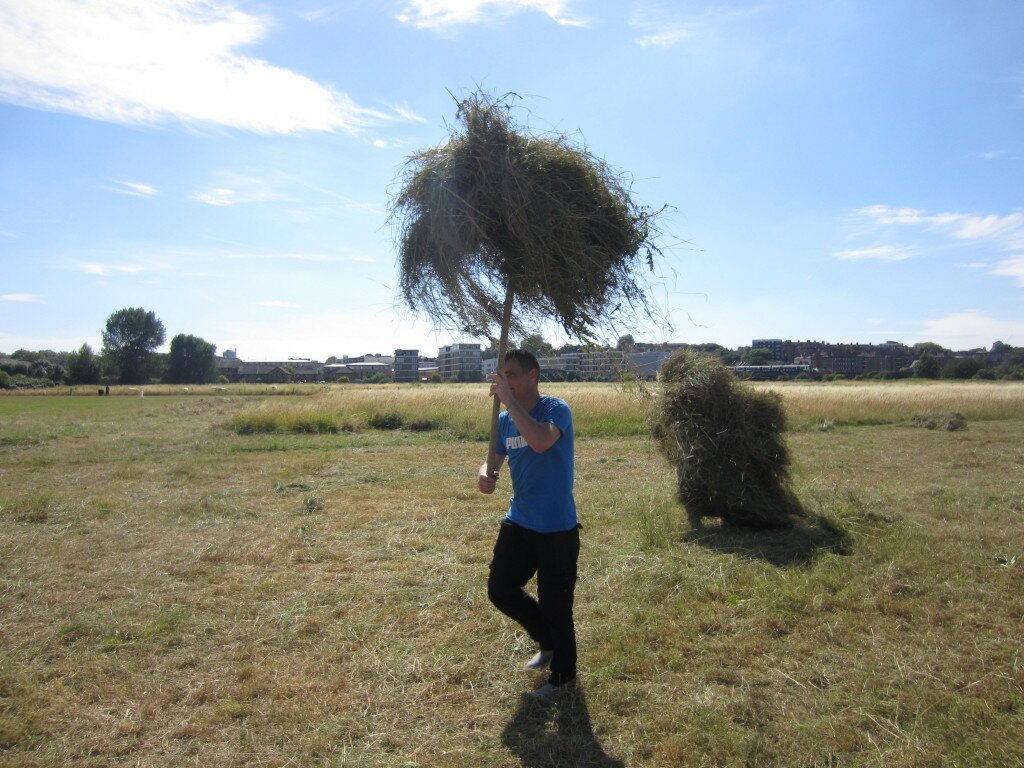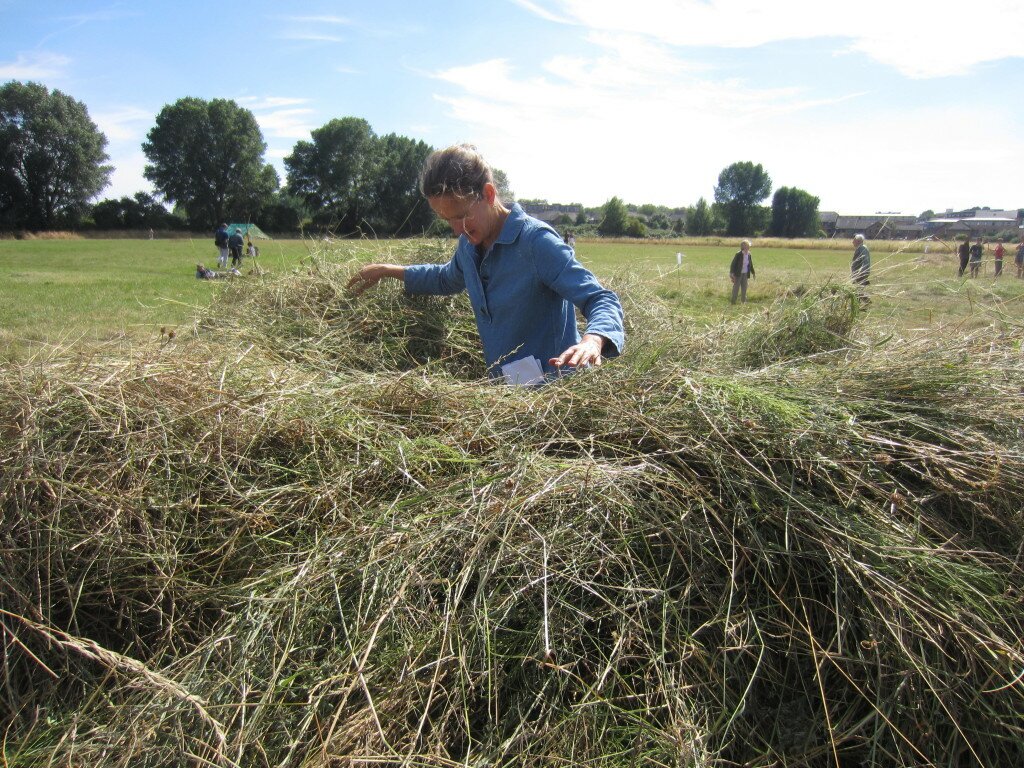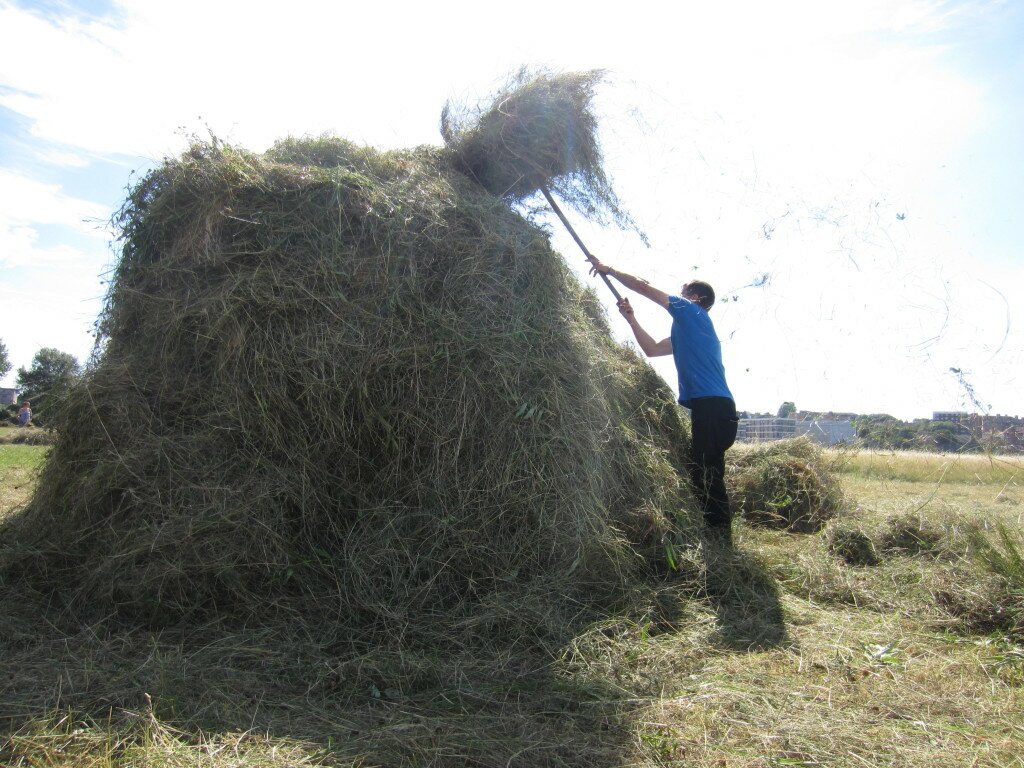 Throughout:
A large area of the marshes will be dedicated to scything, and open to those who already know how to scythe.
Vestry House Museum have a selection of archive photos and documents about the Walthamstow Marshes on display.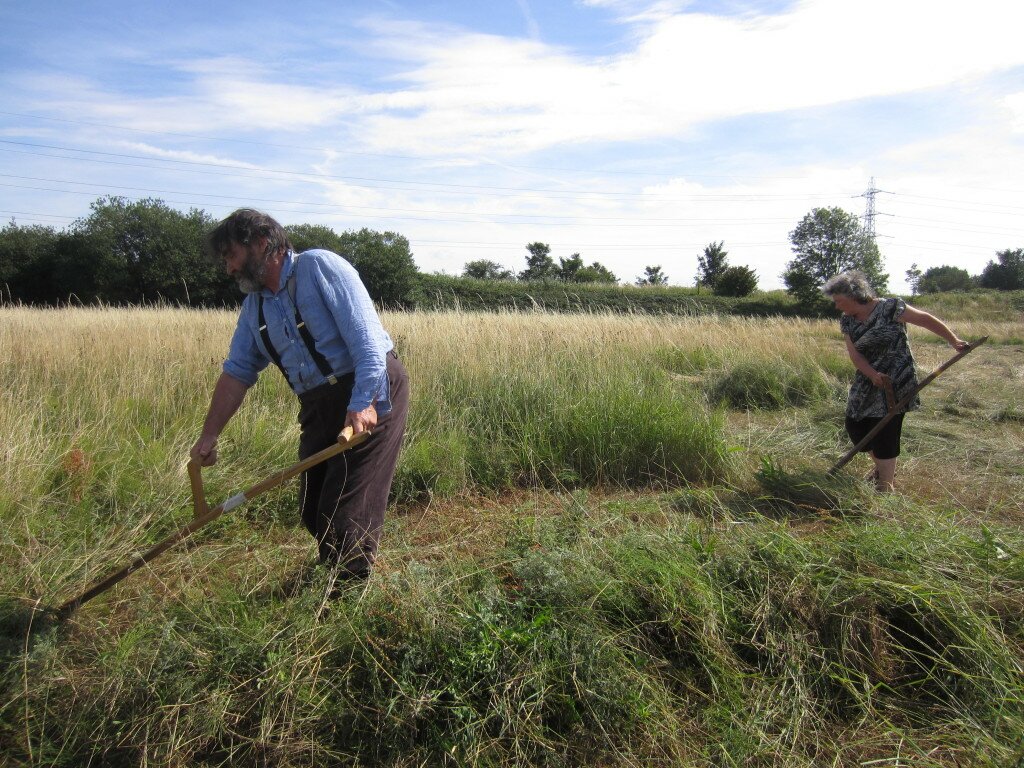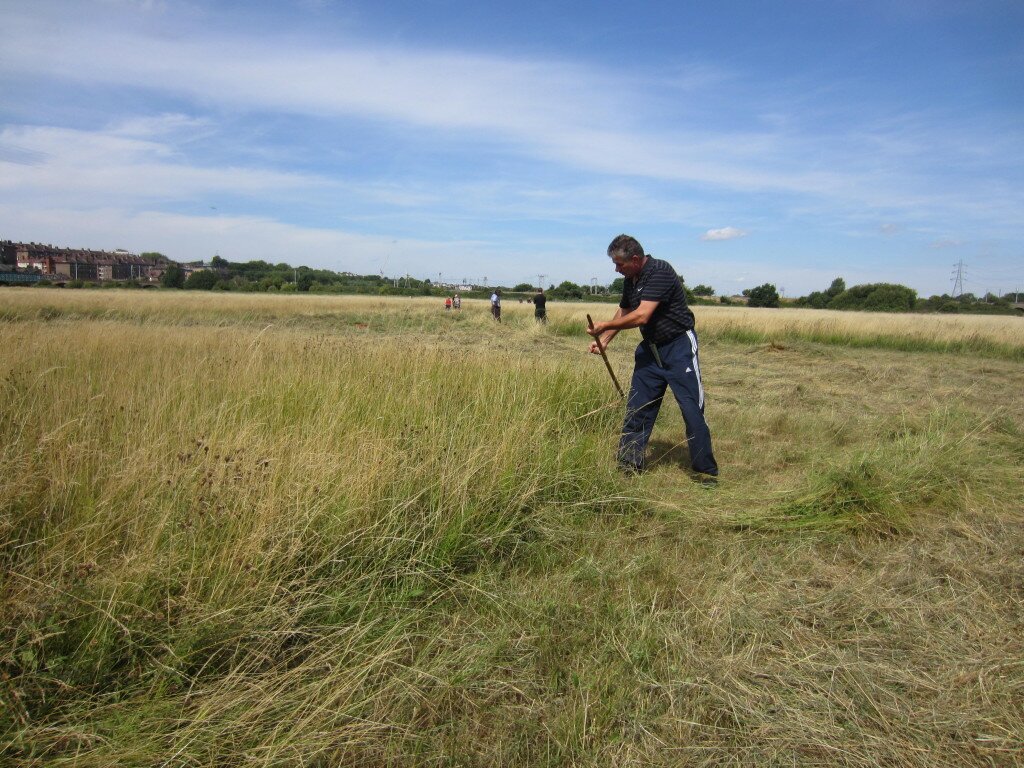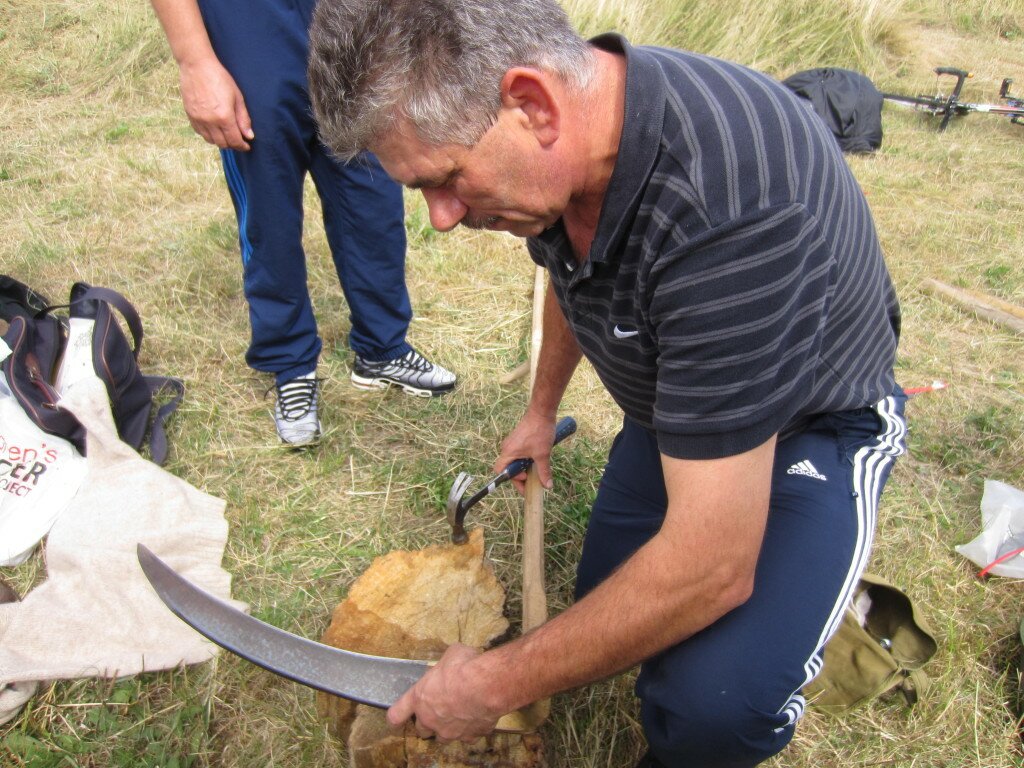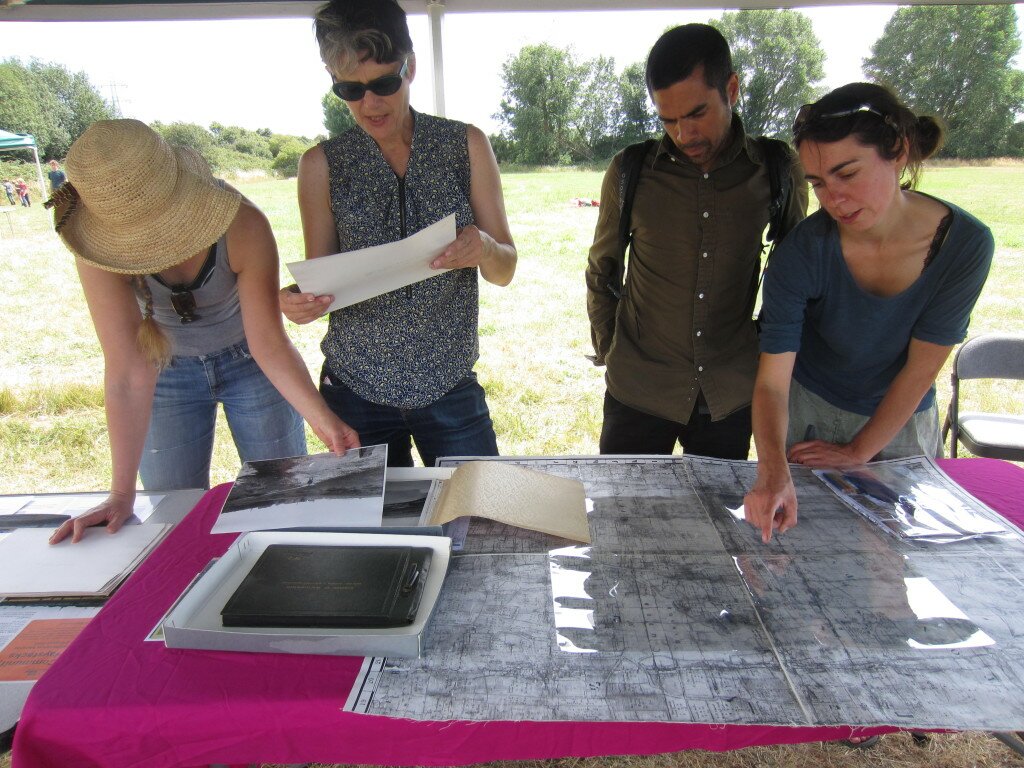 The History
For centuries the hay on the marshes was cut on Lammas day but this major social event was reduced by mechanisation to a single farmer on a tractor. By inviting local people to join in the hay harvest Community Haystacks hopes to reintroduce the social element. While the volunteers cannot physically cut all the grass (it is far tougher and ranker than crops grown annually for harvest) the hay making event gives people a chance to gather on this common land, stimulate debate around access and learn new skills The event comprises talks, workshops and competitions, picnics and haystack making.
The haymaking takes place on Lammas Meadow in an area that was formerly used widely for grazing and haymaking. Since 1985 the land has been designated a Site of Special Specific Interest (SSSI) and is now managed by the Lee Valley Regional Park. Originally drained for farming by the Anglo-Saxons, the marshes between Hackney, Leyton and Walthamstow in east London have been used for everything from football pitches and aeronautical test flights to a dumping ground for rubble from the blitz.
About Community Haystacks
The Community Haystacks started in 2013 on the initiative by local artists Kathrin Böhm and Louis Buckley in close partnership with the Lee Valley Park Rangers. In 2015 the Community Haystacks Group was set up as a small and informal group dedicated to running and developing this annual event.
Press Community Haystacks 2015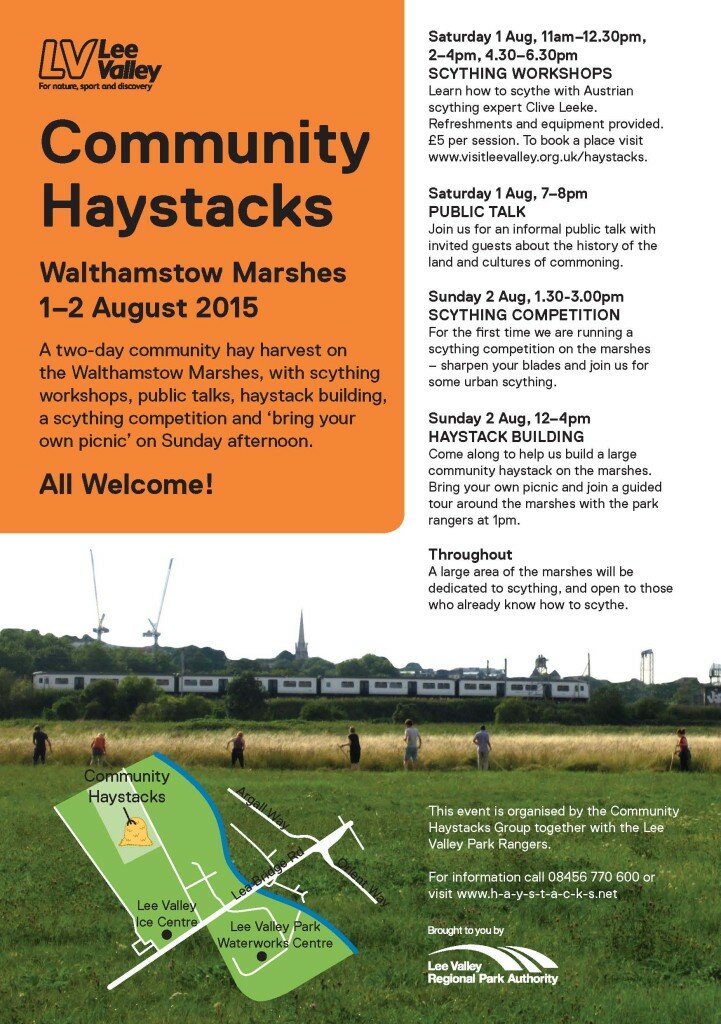 The "Community Haystacks" group first formed in August 2013 to organise and run a public event on the Walthamstow Marshes (East London). This event aimed to encourage the general public to access and make use of common land, and also to share information about the public, agricultural, political and cultural history of common land.
The objective of "Community Haystacks" is to provide public events, including talks, exhibitions, seminars and workshops, which relate to the history and current use of former and current common land, and to all land that is open to public use.
About Haystacks
'Haystacks' are monthly events held in various locations across London to present and talk about rural issues and practices within an urban context. The series started in May 2013 and organised by the artist Kathrin Böhm.
See www.h-a-y-s-t-a-c-k-s.net for further details.
How to get there
The marshes are behind the Lee Valley Ice RInk on Lea Bridge Road in Hackney.
The bus no 48 stops right next to the Ice Rink.
The way to the site will be sign-posted from there.
Practical things
This is an outdoor event with no cover or toilet facilities. The nearest toilets are at the Lee Valley Ice Rink.
Contact
Kathrin Böhm
kathrin(at)myvillages.org
Mobile: 07941 696 515